What you'll learn
The various ways you can make money as a creator
So, you've done it - launched a website, nailed down a content calendar and have a following of dedicated readers. Amazing! You should be proud, and 🤑rewarded💰. Start turning that content into cash by exploring these tried and tested methods.
Display ads
Display ads are a static or animated image that promotes a brand, service, product or offering that appears on your website. They're basically the billboards of the internet highway! And, like a billboard, the spaces with the most traffic will generate the most revenue.
The easiest way to include display ads on your website is to sign up with an ad network, like Google AdSense. AdSense automatically delivers ads that are targeted to your content or audience! For example, if you manage a travel blog and post about a recent trip to San Francisco, AdSense might show an ad about travel insurance, California attractions or a hotel booking service. As the owner of the site where the ad appears, you get paid when a reader views or clicks on that ad!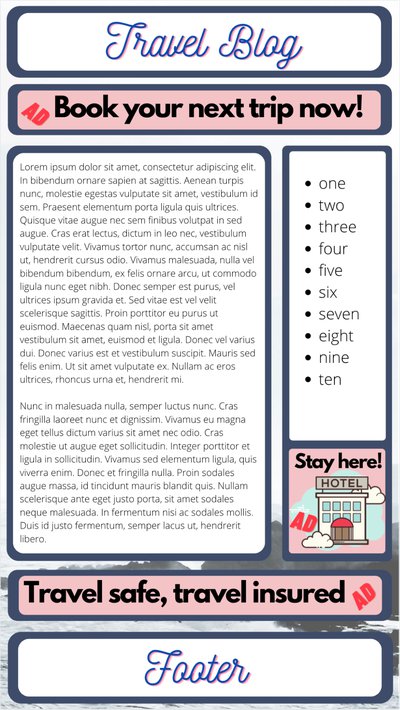 Affiliate links
Affiliate links allow you to earn a cut, or commission, whenever someone buys a product or service based off of your recommendation or promotion of it. This is possible because of a unique identifier in the url (or link) that refers back to you so that you get credited when a reader makes a purchase! It's important to note that you may be required to disclose affiliate links so your audience knows that you are being paid to promote a product or service.
Imagine you're a style influencer who found a great puffy jacket. Well, not just a great puffy jacket. No, you found the perfect puffy jacket. One that packs down small enough to carry in your purse, but warm enough to battle the frigid cold of an unexpected late night out on the town! You can use an affiliate link to share it with your readers, and, if they buy that same jacket you get a commission on their purchase.
Some companies and brands manage their own affiliate links, otherwise you can start sharing affiliate links by signing up with an affiliate network like rewardStyle or Skimlinks.
Brand sponsorship
Brands will often pay to have their company name, products or services featured in your content. Sponsored posts offer brands a way to get exposure from popular content creators, and they'll pay you to do it!
Maybe your travel blog has a section dedicated to essential products. A luggage company may send you a free roller bag to try on your next trip and pay you to post about it. Or, if there's a gadget you need your readers to know about, reach out to the company and ask if they'd be interested in partnering with you! Similar to affiliate marketing, you may be required to disclose to your users any brand sponsorships.
Don't be afraid to ask for tips
Sometimes, fans and readers just want to show their appreciation for your content. What you're doing takes time, effort and talent - the kinds of things worth a little extra cash. Create an account with a virtual tip jar, like Buy Me a Coffee and gently announce it to your followers.
Was this guide useful?
Thanks!