Today is the first day of Lunar New Year, one of the most important holidays in several East Asian cultures. While festivities and traditions vary across cultures, family and food are at the heart of all Lunar New Year celebrations. This is a time for honoring ancestors with food offerings, and for making and eating special dishes that symbolize prosperity, luck and hope.
To celebrate the Year of the Tiger and to help you get inspired by fellow creators making great content on the web, we're highlighting three recipe websites sharing Lunar New Year content.
Kimchimari, The Woks of Life and VickyPham.com feature delicious recipes accompanied by eye-catching photos, interesting stories and fun facts about foods from Korean, Chinese and Vietnamese cultures, respectively. All three are also excellent examples of content creators who use evergreen content to efficiently make engaging seasonal content. For Lunar New Year, for example, each of the three websites offers holiday-focused collections and guides that link to past Lunar New Year-themed recipes, informational posts and more. Readers find these collections useful for seeing all the related content in one place, and content creators get more value out of work they've already done.
Happy Lunar New Year — here's to more efficient and productive content creation in 2022!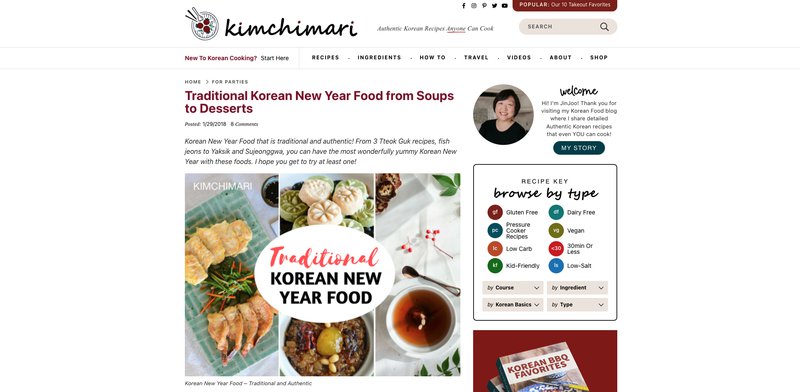 Kimchimari
In Korean culture, Lunar New Year is a three-day festival called Seollal. Those looking to know more about the holiday, especially the foods commonly enjoyed during this time, will want to check out Kimchimari, a Korean food blog started in 2011 by JinJoo Lee. Just in time for Seollal, JinJoo recently updated her homepage to feature her guide to traditional Korean New Year food. The guide features an overview of what Seollal is and short descriptions of celebratory dishes to make for the holiday, which all link to past Kimchimari recipes. The beauty of this type of blog post is that it can be resurfaced every year with minimal updates, such as updated photos, videos and links to new content that fits under the theme. This year, JinJoo updated her dasik (Korean tea cookies) recipe with a new YouTube tutorial.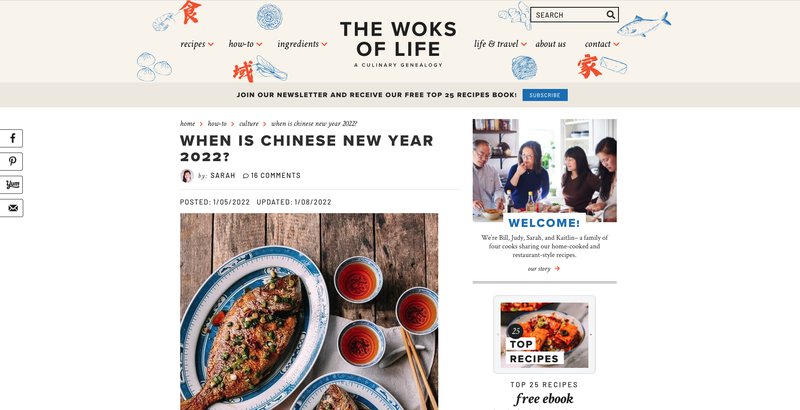 The Woks of Life
Bill and Judy Leung and their two daughters Sarah and Kaitlin are the family behind The Woks of Life, a travel and cooking blog, where the four share their adventures in the kitchen and on the road. The Woks of Life website is a one-stop online hub for home cooks to learn Chinese cooking techniques, ingredients and traditional and contemporary recipes. The Woks of Life has an impressive collection of Chinese New Year-focused content. As part of their content strategy, The Leungs repackage and repurpose past recipes into seasonal guides, like their Chinese New Year menu planning guide. This year, the site published When Is Chinese New Year 2022?, a post which references and links to evergreen content, including a 2021 post on the Year of the Tiger. While search requests for seasonal content are tied to a specific time of year, don't discount the power of this type of content. Google Trends reveals that searches for seasonal topics spike every year, so it's almost certain they'll be relevant every year.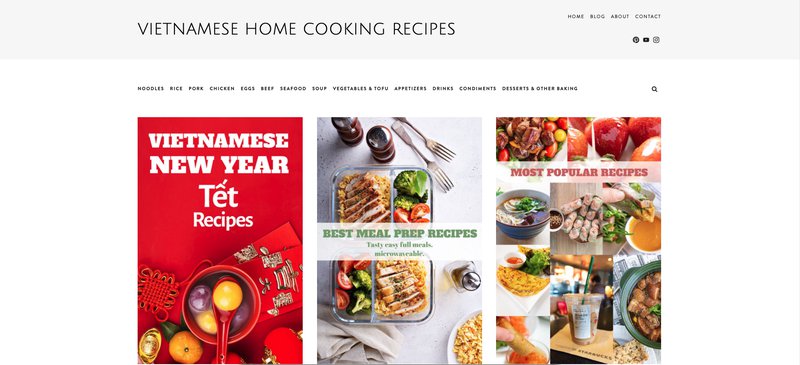 VickyPham.com
In Vietnamese culture, Tết Nguyen Dan, or Tết for short, is a three-day holiday celebrating the first day of the Lunar calendar and the start of spring in Vietnam. If you're looking to make dishes on Tết, you'll find several new years recipes on VickyPham.com. Vicky started the blog in 2014, as a way to document the traditional Vietnamese home-cooked meals she learned to make from her mother-in-law, but these days, she also includes her own take on Vietnamese dishes and recipes from other cultures, too. To ensure her readers are seeing all her Tết-themed recipes in one place, she's created a prominent banner on her homepage that links to a collection of her Lunar New Year recipes. This year, she added two new recipes to the collection: mứt dừa and Bánh Tét.
Sign up for our monthly newsletter to get the latest from Google for Creators in your inbox.
Top photo of the Leung family (The Woks of Life): Sarah Yeoman