YouTube and Meta live video updates, Discord tests memberships, more
Before we say goodbye to 2021, we have one last edition of The Creator Update, our roundup of the latest news from the creator economy. For those who like to watch their news, you can check out episodes of The Creator Update on the Google for Creators YouTube channel. Otherwise, read each edition right here on the blog.
So let's get right to it; here's what's top of mind this week:
YouTube expands channel permissions, launches auto chapters
YouTube shared news of three updates last week. First up, YouTube released new permissions support for Live Control Room, the desktop dashboard where creators set up and manage their live streams. Now, creators can grant users access to Live Control Room in YouTube Studio, where managers and editors can create, start and manage live streams and viewers can view them.
With the new Editable Auto Chapters, YouTube makes adding chapters to videos a snap. While uploading a video, creators can check a box to automatically divide it into different chapters. Adding chapters enhances viewing experience, because it allows creators to add more context to a video, and lets viewers easily find and rewatch specific parts.
The last feature update is called Places Mentioned, which allows creators to easily add the places mentioned in a video in the video description box. Before this, creators had to manually add TextMap links about the places mentioned in videos. Places Mentioned is visible on the main app for iOs and for food and drink videos on Android.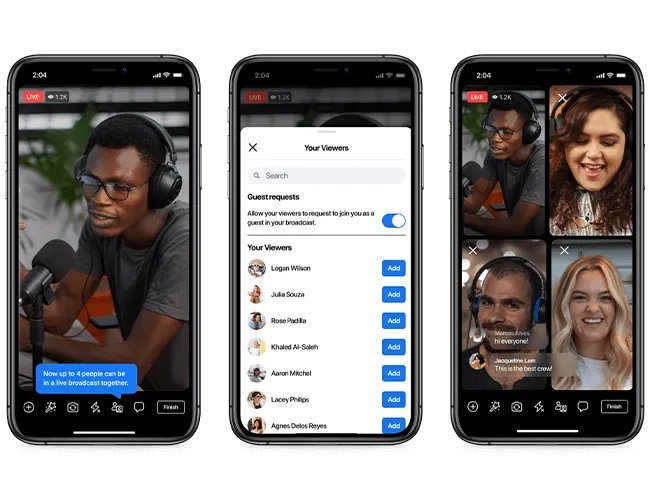 Meta updates Facebook Live, opens Horizons World
Meta just revamped Facebook Live with a new design and several new live video tools. Three notable updates include Live With, which lets creators co-broadcast with up to three other people; Featured Links, which allows creators to add third-party links to live broadcasts; and Live in Stories, which lets creators share streams directly to Facebook stories. Meta also recently updated comment moderation and support for Facebook Live users, giving them more control to do things like block keywords including profanity or choose another person to moderate comments on their behalf. Finally, Meta is testing a live support chat for English-speaking creators in the United States through a dedicated support site. Globally, Meta currently offers live help through the Facebook app, but only for users who have been locked out of their accounts.
While we're talking Meta, the company took its first steps to introducing the public to the metaverse with the opening of its virtual reality social platform, Horizon Worlds. Following an invite-only beta launch last year, Meta opened access to Horizon Worlds on December 9 to people 18 years and older in the U.S. and Canada through the free Quest app. Meta specifically markets Horizon Worlds to creators, who the company says will find tools to collaborate with others, create immersive experiences and find a community by building their own VR worlds and games. In October, during its beta phase, Meta launched a $10 million Creator Fund to target creators to join Horizon Worlds. Funds will be used to start a Creator Accelerator Program, for cash prizes in creator competitions and to pay developers, studios and other creators who participate in partnerships. To sign up for Horizon Worlds, you will need a Facebook account and an Oculus headset.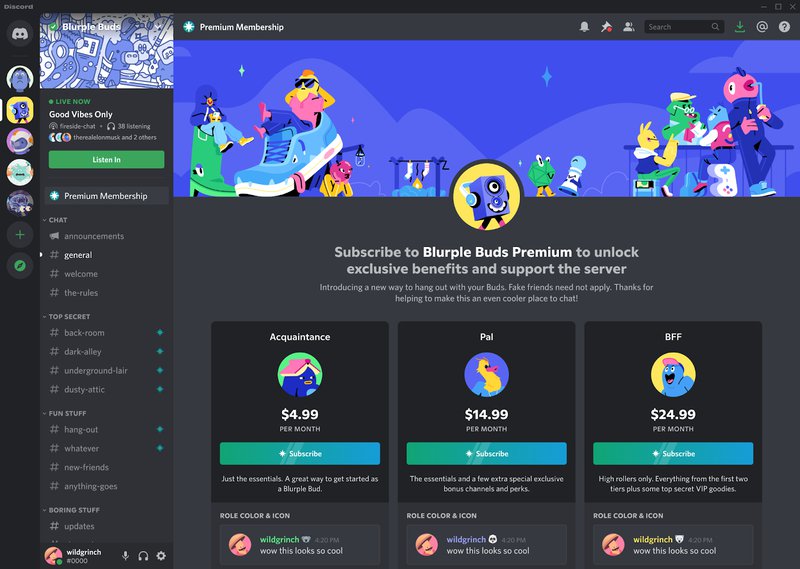 Discord tests premium memberships
Popular group chatting app Discord is currently testing premium memberships, with the aim of helping creators make money. Participating creators can offer tiered memberships for access to content and interactions within their communities. According to Discord, paid subscriptions are in high demand amongst its creators, but for now, premium memberships are only available to a limited number of users. Discord says it will release more information about possible membership expansion next year, so stay tuned!
TikTok launches Creator Next, gives video making tips
TikTok's Creator Next is sort of an incubator program for emerging creators to monetize while still growing their audience. Participating creators can access monetization tools and features — such as the TikTok Creator Fund, Creator Marketplace, LIVE Gifts, Video Gifts and Tips — that connect them to brands and fans. To be eligible for the program, creators must be at least 18 years old, have 1,000+ video views and three postings in the last 30 days, and be based in the U.S., the UK, Germany, France, Italy or Spain.
Looking for tips to create more engaging videos on TikTok? Check this out. TikTok just released new best practices about video ads on the platform. While these recommendations are meant to help businesses market better on the platform, lots of these learnings are applicable for creators too. A few of TikTok's most intriguing findings: Video ads with resolution of 720p had a 312% lift in conversion compared to lower resolution ads; videos shot in the full-screen vertical format had a 91% lift in conversion compared to ads framed by black bars; and ads with a clear call-to-action in text format had a 152% lift in conversion compared to videos that didn't.
Thanks for reading this edition of The Creator Update. We'll have more updates in 2022. Until then, check out more videos that'll help you learn, grow and get inspired by subscribing to Google for Creators on YouTube.