When Paul Zalewski became a father, he went online, looking for information on how to be a dad. "I literally never held a baby until my daughter was born," Paul admits. Knowing he wanted to be the opposite of the stereotypical 1950s father, Paul mined the web for expert parenting advice and research-backed product reviews. He found a lot of good information, but much of it was geared towards moms and didn't speak to his experience as a dad.
Not finding online resources or community that reflected him, Paul ended up reaching out offline to another new dad, his brother-in-law, John Doht. The two swapped parenting information and found comfort in their camaraderie. Paul and John started talking about building the online resource they wished they had found when they became parents. And that's how their dad-focused parenting brand, Fathercraft was born. They launched the site in 2016, focusing on in-depth baby product reviews that weren't just informational, but funny and fun to read.
Today, Fathercraft brings in an average of 51,000 monthly visitors to the website and gets about 52,000 monthly views on their YouTube channel. While Fathercraft is still a part-time project for Paul and John, their goal is to make it a full-time business. Adding affiliate links to reviews and selling merch on their site has provided a steady stream of income, but Paul says their online video courses, which they launched in 2018, are currently their biggest money maker.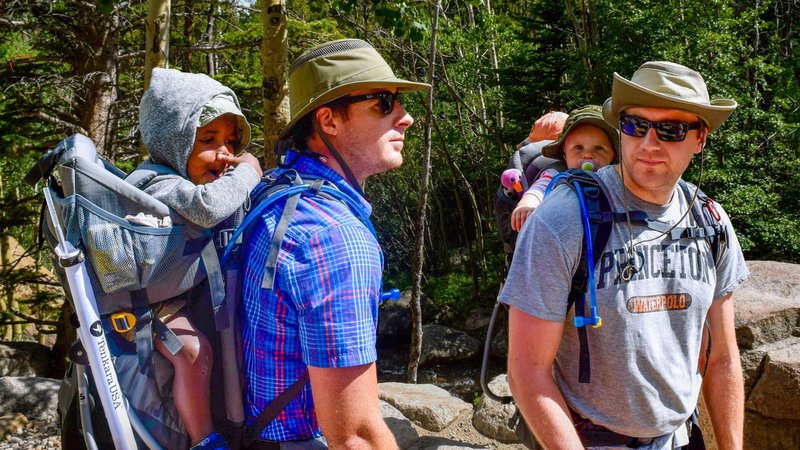 Fathercraft currently offers two paid courses: Father's Ed, a nine-module course for new dads made up of 32 videos, and Baby Sleep School, lessons on sleep training that are included in Father's Ed and offered as a standalone course. Paul and John have had about 600 parents take their courses so far, and aim to make more on new topics in the future.
The benefits of online courses have been threefold for Fathercraft: revenue from evergreen content, a passive way to increase their reach and most importantly for John and Paul, a community of loyal fans. They've learned a lot from creating their first two courses, lessons that they are happy to share with others. Here are four tips for creators who are considering making their own online courses:
Strategize content around user experience
Paul and John took 18 months to create their flagship course, Father's Ed. A lot of that time was spent coming up with the content and organizing it. Even after all that advance planning, Paul says they learned a lot in hindsight from the experience, as well as from user feedback. Some parents, for example, felt they should have talked about baby gear earlier in the course. Other parents said they wished the videos had closed captioning, so they wouldn't disturb their sleeping spouses and/or babies as they watched. Paul and John say they will create future course content with more of the user's perspective in mind.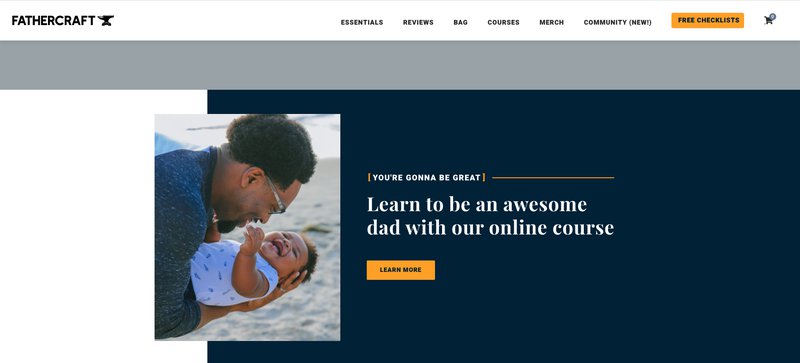 Teach the essentials through your POV
What sets Fathercraft apart from other parenting resources is that they deliver researched information in an entertaining way. "Our use of humor has been something that people have really latched onto," Paul says. "We like to joke around a lot and we've heard from the vast majority of people that that's been a thing that helped them get through a larger percentage of the courses." Paul and John are the first to admit that all of the information in their courses can be found elsewhere on the web and in parenting books; their job is to organize, vet, curate and present that information for their audience. "We drew heavily on American Academy of Pediatrics' recommendations for Father's Ed. It was important for us to have something that was science-backed and from experts," Paul says. "But our own experience was part of it too. Bringing those two things together was what made the course magical, blending personal experience with an expert view point."
Choose a medium that speaks to your strengths
Paul and John created online video courses because of the strength of their product reviews on YouTube. "So much of parenting is hands-on, and demonstrating through video and talking to experts on video brings topics to life a lot more than reading about them," Paul explains. It helps that John — who represents Fathercraft in all the videos — is a natural on camera. His knowledgeable, but laid-back and funny vibe aligns with the overall voice of the brand.
Paul says that if he were doing Fathercraft alone, he might not have chosen to create video courses, since being on camera is not one of his strengths. Instead, he might've focused mainly on downloadable guides and worksheets (which Fathercraft also sends to parents who take their courses). Another option Paul suggests for camera-shy creators: audio-only material. In fact, some parents have said they wished Fathercraft had an audio version of their courses, so they could listen to the lessons in the car.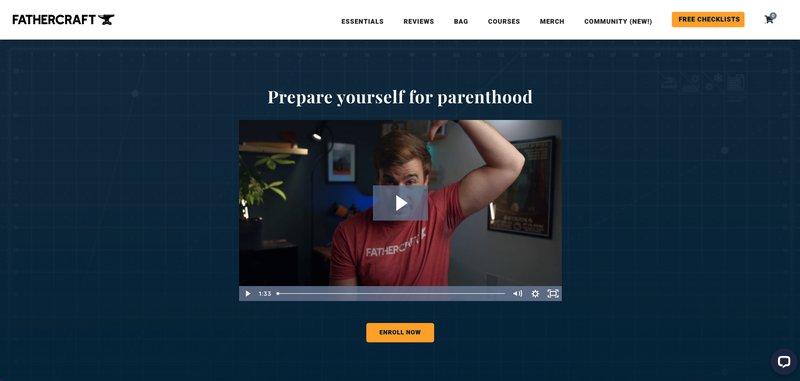 Promote your courses with high-quality, free content
While the Fathercraft YouTube channel has a strong following, Paul and John consider their website to be their main hub. "We have an amazing credibility from the website, it's good looking, it has strong domain authority, and has led to an incredible amount of opportunities through the years," Paul explains. Their trove of high-quality free content is often the determining factor that drives readers to become paying course takers. "We've experimented and failed with thinking that people watching our YouTube channel will buy a $150 course," Paul says, "but they will click a link to a free PDF."
Sign up for our monthly newsletter to get the latest from Google for Creators in your inbox