Google for Creators is highlighting 10 Asian American creators you'll want to follow. From online hosts to self-taught chefs, these tastemakers share their unique culinary perspectives and dishes that are reflective of their respective heritages and more. Whether you're a food enthusiast, aspiring home chef, or simply curious about diverse cuisines, following these talented food creators will open up a world of flavors and inspire your own culinary adventures.
@sulheejessica
Jessica Woo is a wildly popular creative food artist and social media personality with over 5.7 million followers on TikTok. Also known as the Bento Box Queen, she lovingly creates bento box lunches for her three young daughters which includes thoughtful messages of love and encouragement. The dishes packed within the intricate, visually stunning presentations are often inspired by Jessica's Korean, Chinese, and Hawaiian heritage. One of her most popular videos is a rose-shaped dumpling box in commemoration of Valentine's Day, which garnered over 20 million views on TikTok. And kimchi salad, a staple served at family celebrations and gatherings throughout her childhood embodying the spirit of Korean cuisine, is one of her favorite childhood dishes.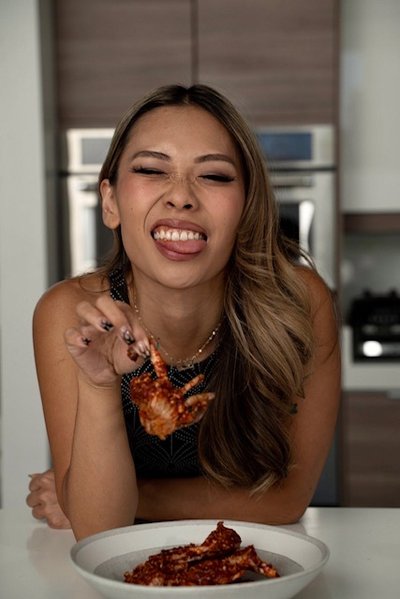 @chefpriyanka
Celebrity Chef Priyanka's Indian vegan cooking is rooted in her vegetarian upbringing. Paired with her passion for sustainability, the self-taught chef, television personality, columnist and author's creations are featured in her blog Chef Priyanka as well as TODAY Table, a Peacock TV show she co-hosts. An avid traveler who's collected passport stamps from 40 countries (and counting), Indian-American Priyanka proudly served as the first vegan & sustainable chef for the W Hotel Maldives. She has garnered attention from and been featured on the Kelly Clarkson Show, Forbes, Today, etc. Priyanka's favorite dish is a Mumbai favorite called Pav Bhaji. Made of smashed spicy masala veggies, the Maharashtrian India street food dish is served on a toasted pav (Indian bun) topped with crispy sev, pomegranate,  fresh coriander and lemon; you can find more recipes in her cookbook The Modern Tiffin. And be sure to check out her most viral recipe video, if you love pasta!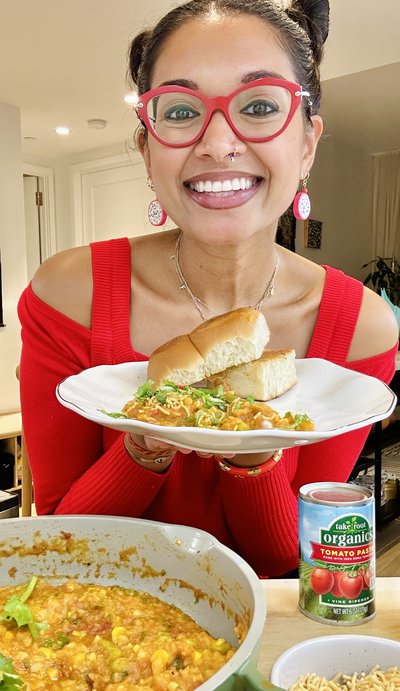 @its.lisanguyen
Lisa Nguyen is a prominent Vietnamese-American food creator on YouTube, amassing an impressive following of 4.4 million subscribers. Based in Kansas City, MO, Lisa combines her passion for food, videography, and narration to create captivating content. Her most popular videos include her 30 day ramen challenge, spice tolerance challenges, and letting her viewers pick what she should eat for 30 days. In addition, Lisa's dedication to working with family-owned businesses shines through as she shares their stories and the dishes they create. As a storyteller,she wants to explore and discover unique stories and eateries and continues to embark on a journey across America and abroad. For those interested in diverse cuisines, cultural influences, and the fascinating tales behind the food we love. Lisa's AAPI video series is a must-watch, featuring 31 Asian-American creators from around the US to celebrate AAPI Heritage Month. You can start watching her food series on YouTube HERE.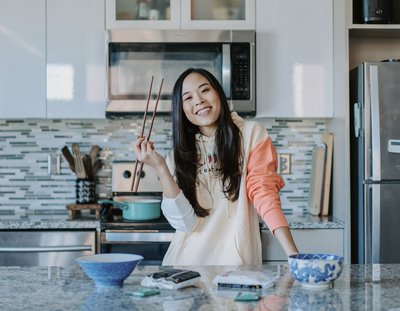 @dashofting
Tinger Hseih is a talented Taiwanese-American content creator for the multi-platform Dash of Ting with an international mindset, helping friends and followers travel with their tastebuds by sharing healthy global-inspired cuisines, travel tips and cultural insights. Not only does she post content on her social media channels, Tinger has hosted shows and engaged in collaborations with Google, Peacock TV, Thrillist, and the Norway Tourism Board. Because Tinger is also a passionate supporter of World Cup Soccer (Football), she created a fun World Cup Soccer video food series encouraging viewers to guess her preferred teams based on the dishes she presented. A favorite Taiwanese dish of Tinger's is tomato and egg stir-fry because the ingredients are easy to find in any grocery store and resembles some classic dishes from other regions like shakshouka from Tunisia and huevos rancheros from Mexico. Be on the lookout for her upcoming cookbook with National Geographic!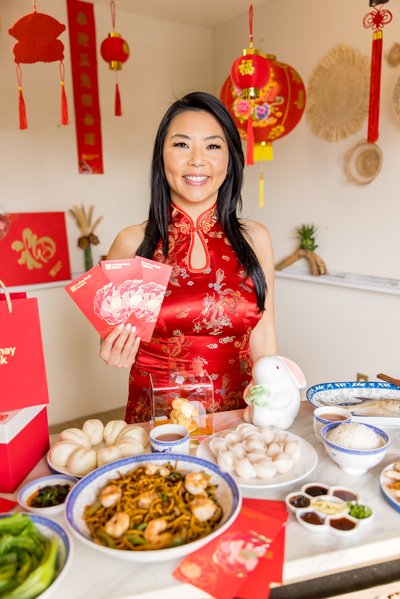 @cookingbomb
Vivian Aronson is the beloved recipe creator and author known as CookingBomb. Hailing from Sichuan, China, where she developed her passion for cooking alongside her grandmother, Vivian now resides in Orlando, Florida, with her husband and four children. Her engaging and entertaining content has garnered immense popularity, with viral videos like What a Chinese family eats in a day? and recipes like the 17-year-old pickle brine for Chinese pickles and delightful snacks for kids. Vivian's charismatic personality shines through as she shares her funny phrases, like measuring ingredients with her "Chinese Eyeballs," and skillfully managing her three children, affectionately referred to as the circus, while preparing meals for her family and viewers. As one of the top 36 contestants competing in MasterChef Season 10, Vivian's talent and dedication to delicious home cooked Chinese cuisine can be shared through her cookbook Asian Market Cookbook, where she offers approachable ways to purchase and cook with Chinese ingredients and produce. Among her personal Chinese favorite dishes is the mouthwatering dish "Lion's Head Meatballs."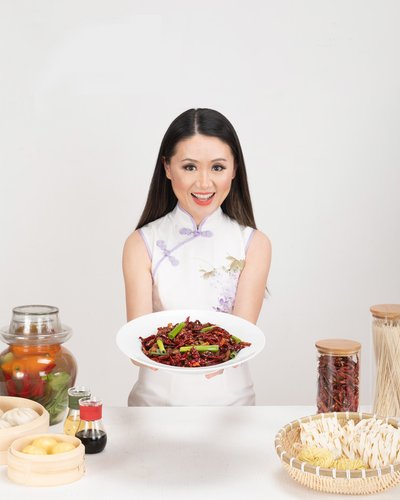 @jeanelleats
Jeanelle Castro, an accomplished travel and food host, captivates her 1.2 million YouTube subscribers with her culinary adventures and cultural explorations around the world. From the bustling streets of the Philippines to the charming landscapes of Ireland and the flavorful food scene of Japan, Jeanelle takes her audience on a delightful journey to savor the local favorites. Her most popular YouTube video, "Everything I ate in a Bullet Train in Japan," has garnered over 2.2 million views, showcasing her ability to transport viewers through food and storytelling. While Jeanelle dedicates herself to showcasing global cuisine, she also pays homage to her Filipino heritage with dishes like Pinakbet, which reflect the flavors and traditions of her upbringing. With engaging series such as "30 days of her bread challenge" and "Battle of the Dishes," Jeanelle combines lighthearted storytelling with the joy of exploring the world through food. If you're seeking a delightful blend of cultural discovery and palate-pleasing food recipes, Jeanelle's video content is a must-watch.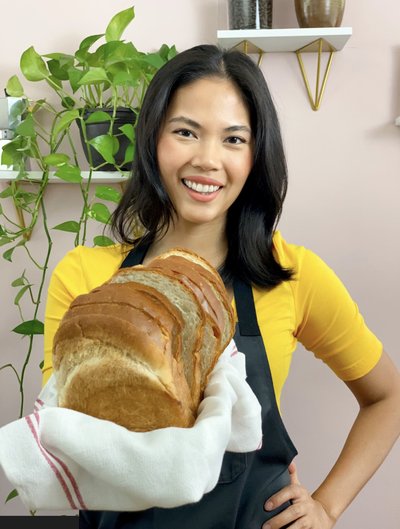 @cj.eats_
Chris Joe, a third-generation Chinese-American and self-taught home cook, proudly carries on the culinary legacy passed down by his grandfather. His friendly and down-to-earth approach in the kitchen has resonated with over 1.6 million followers across TikTok and Instagram, leading him to be recognized as the Food Influencer of the Year at The Influence Awards. Although a majority of his dishes reflect his heritage, as seen in his beloved Crispy Pork Belly recipe, CJ also showcases diverse and flavorful regional cuisines. One of this most viral videos is this crunchy Chicken Katsu dish, inspired from his recent trip to Hawaii. Whether you're seeking authentic Chinese dishes or exploring a variety of flavors, CJ's culinary creations are sure to make you hungry.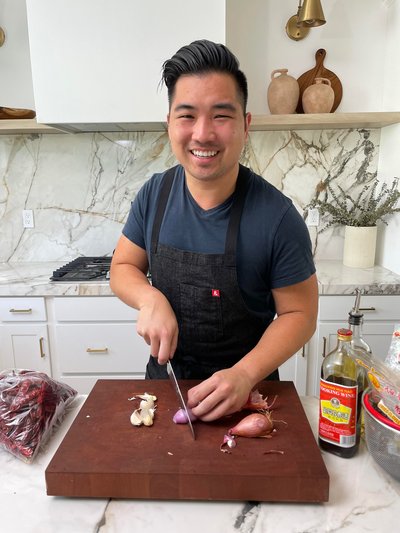 @yakitoriguy
Yakitori Guy is a talented and passionate chef dedicated to the art of Yakitori, the Japanese style of grilling chicken skewers. Rooted in his heritage, his expertise and knowledge have been honed through extensive travels across Japan, where he learns from Yakitori masters and shares his experiences on his YouTube channel. He even shares his excitement of dining at Torishiki, and what he believes offers the best Yakitori in the world on his YouTube channel. With a strong community of supporters, affectionately known as YakiGang, he organizes curated Yakitori dinners in Los Angeles and even accepts high-quality chicken donations from his followers to showcase in his recipe videos. Additionally, YakitoriGuy holds a deep appreciation for savory bowl of ramen, a comforting and cherished Japanese staple. Here is a video recipe that he shares that combines shoyu ramen utilizing left over chicken bones from his Yakitori preparations. Stay updated on his next LA pop-up dinner on his Instagram.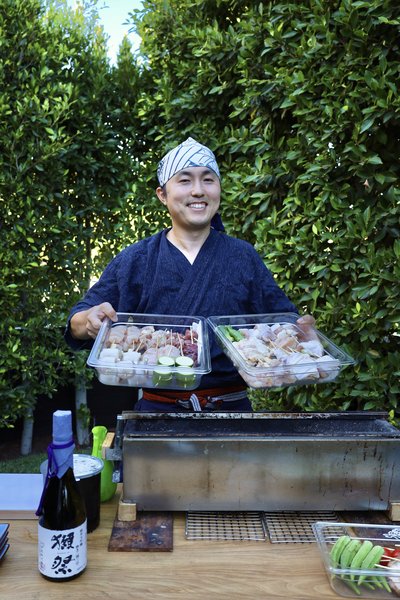 @chilipeppercooks
Shihan Chowdhury, also known as Chili Pepper Cooks, is an American-Bangladeshi homecook known for his savory recipes on TikTok that incorporate the optional but essential Thai chili pepper, all presented with a captivating personality and a beaming smile. His culinary prowess has been recognized by prominent platforms like Buzzfeed, featuring his best recipes, which he creates a flavor explosion that keeps viewers coming back for more. Shihan's enthusiastic personality and impressive skills have also attracted an opportunity to host his own cooking show with Yahoo's In The Know, and collaborated with none other than celebrated boxing champion Tyson Fury. To pay homage to his heritage, Shihan shares an engaging tutorial on making roti, a beloved staple in his culture, along with his Ramadan series. Beyond his digital recipe creations, Shihan has recently launched Taste of Sora, a line of delectable chutney-style Thai Chili Sriracha and Thai Chili Honey, meticulously crafted with the highest quality ingredients and a firm commitment to preservative-free and GMO-free products. With Shihan's products and online recipes, food enthusiasts can get one step closer to savoring the incredible flavors he has to offer.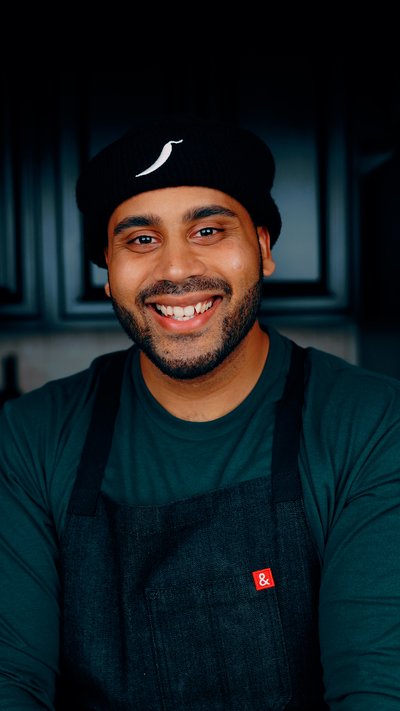 @pete_eatss
Pete Duong is a published author, dedicated recipe maker, and captivating content creator. Through his enticing recipes, he proudly showcases his Khmer, Thai, and Lao heritage, infusing his dishes with the flavors and traditions from these cultures. Pete's exceptional storytelling abilities shine through in his videos, making them not only informative but also engaging for aspiring home cooks. His most viral TikTok video, featuring crispy shrimp balls, has garnered an astounding 12.1 million views, captivating viewers with its satisfying crunch. One of Pete's personal favorites from his heritage is mee gathang (gravy noodles), a comforting and nostalgic dish that brings back fond memories of his childhood. The combination of delightful textures and well-balanced flavors in these savory noodles truly resonates with Pete and his audience. With his diverse background, Pete's culinary creations and travel-inspired recipes beautifully reflect the rich tapestry of his tri-heritage background, offering a fun way to taste cultures together.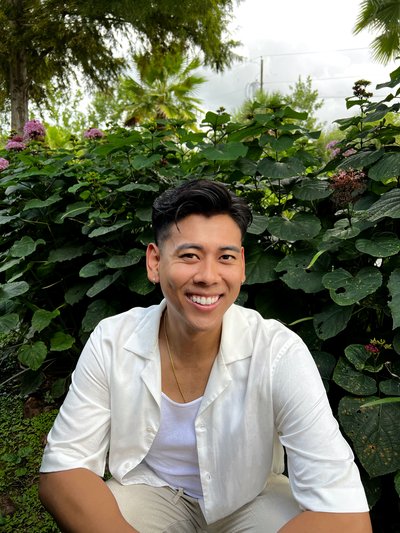 Thank you for reading this article in celebration of amazing creators and our recommendation for 10 Asian American Creators you'll want to follow.
Author: Daisy Kim, MA, is an Asian American Studies Educator and Consultant.