It's hard to imagine life without our cell phones, computers, tablets and other devices. This is especially true for busy creators, who spend so much time online researching, producing and managing content, building communities and growing their businesses. Even the most seemingly balanced creators can suffer from "creator burnout" or "creative fatigue" when their schedules get too hectic.
So how can we make sure we unplug enough to stay healthy and balanced?
March 4 to 5 is the National Day of Unplugging — the Unplugged Collaborative's awareness campaign that teaches people how to maintain a healthy life/tech balance. Each year, the nonprofit invites people to turn off their devices and take part in unplugged events hosted by schools, religious institutions and businesses worldwide.
In addition to this annual event, there are many ways to unplug on a daily or weekly basis. To get a full-time creator's perspective on unplugging, we consulted self-care, wellness and holistic living educator Andi Eaton. Though her Oui, We website, blog, podcast, courses and social media, Andi coaches other women on living a balanced, creative life.
"To me, 'unplugging' is about taking time for yourself, setting appropriate boundaries and disconnecting from the pace of the world," Andi says. "It's stepping away from email, DMs and the phone (which will be there when you reconnect!) and taking time to do things that give you an opportunity to reset." She offers four tips for creators "who feel like they've been glued to technology for too long and need a break."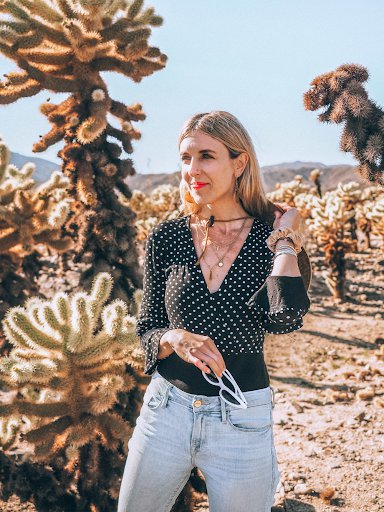 Step away and reset
"Whether you spend that time on a hike in nature, in bed resting, in a yoga class, having a nourishing meal with friends, getting your nails done, going to the park or a museum or enjoying a day at the beach (a few of my favorite ways to unplug), the goal is to reset and come back feeling inspired," Andi says. "If you can't commit to that amount of time, a walk around the block counts!"
Get enough rest
Creators tend to work long hours on their content, sometimes well into the night. But sleep deprivation isn't good for your productivity — or your health. "Give yourself a good night's sleep, and take a midday nap if you need to," Andi advises. "As a creator, one of the benefits of working for yourself is setting your own schedule, so be gentle with yourself.
Consider your health
Andi teaches clients to be self-aware and mindful of their bodies, which can be a challenge for busy creators. "Are you drinking enough water? Eating a well-balanced diet? Making time for movement in your day?" Andi asks. "When we're overworking ourselves, we sometimes overlook the simple things that are good for us that make a big impact."
Schedule time to unplug
"To ensure you're treating your well-being with the same level of importance as the work you do, you may need to block time on your calendar for reset time, rest time, exercise and healthy eating," Andi suggests. Make unplugging part of your schedule. "Even if your days feel disorganized and chaotic," Andi notes, "there is hope when you work to manage your time."
However you unplug, do it with purpose and do it often! Technology helps creators accomplish so many amazing things. We just need to be sure to unplug enough to care for ourselves and keep those creative juices flowing.
For more content creation and lifestyle advice from Oui, We by Andi Eaton, check out her Creator Insights series on the Google for Creators YouTube channel.