Since Web Stories are on the open web, they are indexable, crawlable and searchable, just like an article or blog! This guide outlines where they can surface and options to share and promote them yourself.
Google Search and Images
Web Stories appear in a grid view, or as a single result on Google Search. Follow metadata guidelines in our Web Story publishing checklist for best results.
Additionally, Web Stories can appear in Google Images as an image card with the Web Stories icon. This appearance is available in all regions and languages where Google Search is available.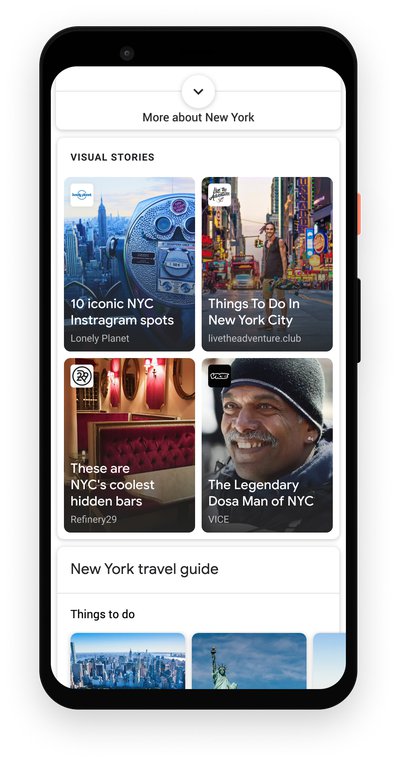 Google Discover
Google Discover is a personalized feed that curates articles and content in a media-forward experience. Most users access Discover through the swipe right screen on many Android devices and within the stand alone Google app on both iOS and Android. Discover is also appears when visiting google.com on your phone, or when opening a new tab in Chrome.
Quick tip
It's important to note that Web Stories currently only surface in Discover in the United States, India, and Brazil.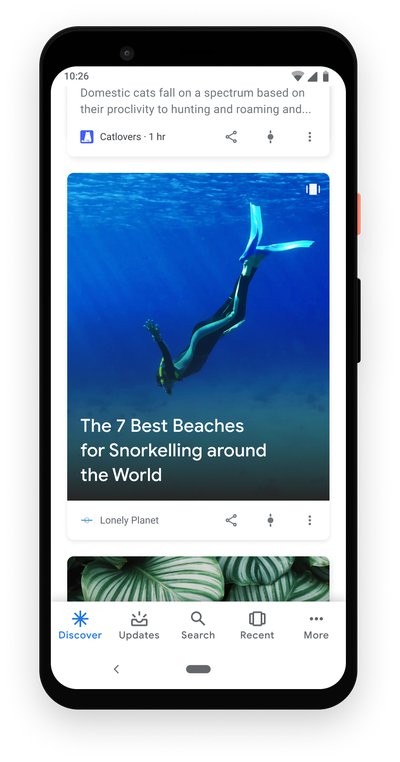 Embed Web Stories on your site
You can promote your Web Stories by embedding them into your website or blog. This will feature your web stories to your readers and allow them to discover them organically. Web Stories featured on your site will also appear to readers following your RSS feed, and you can include them in newsletters.
You can feature Web Stories as standalone pages, or embed them into a post just as you would other pieces of media, like a YouTube video. Readers are able to interact with embedded Web Stories the same as stories they find on Search or Discover.
How to embed Web Stories on your site
Different tools allow you to embed Stories in various ways. For example, if you have a WordPress site, you can insert a Web Story block provided through Gutenberg. That Web Story block provides three options for embedding stories into your page:
Display a specific single story
Display specific multiple stories
Display your latest stories
If you choose to display multiple stories, you can choose between a carousel, grid view or list layout.
If you don't have a WordPress site, you can copy and paste the embed code directly from your editor of choice and add them manually.
Was this guide useful?
Thanks!